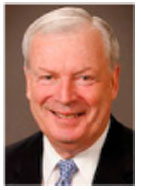 Richard "Digger" Phelps, who enjoyed two successful decades as Notre Dame's head coach, joined ESPN as a college basketball studio and game analyst in November 1993. He works in the studio each Monday and Tuesday, contributes to College Hoops Tonight and calls select games. He also works as the main studio analyst for ABC Sports' college basketball coverage. In addition, Phelps teams with Dick Vitale to provide studio and on-site analysis during ESPN's Championship Week, the NCAA Championship and the NCAA Final Four.
Before joining ESPN, Phelps served as a college basketball analyst for CBS Sports during the 1992 and 1993 NCAA Championships, handling both studio and game analysis. In 1984, he served as commentator for ABC Sports' basketball coverage at the Summer Olympics in Los Angeles.
During his 20 years at Notre Dame (1972-91), Phelps won more games (393) than any coach in Irish history. His teams advanced to the NCAA Championship on 14 occasions -- including six of his last seven seasons -- and reached the Final Four in 1978.
Phelps averaged more than 19 wins per season during his career at Notre Dame, and, overall, won two-thirds of his games (393-197, 66.7 percent). In addition, all 56 players who played four years for Phelps received their degrees.
Before coaching at Notre Dame, Phelps was the head basketball coach at Fordham University during the 1970-71 season. His team compiled a 26-3 record and advanced to the NCAA Championship.
After resigning from Notre Dame on April 15, 1991, Phelps joined President George H.W. Bush's administration as special assistant to the Executive Office of the President for National Drug Control Policy (1992-93), working closely with the office's Operation Weed and Seed anti-drug program.
In addition, Phelps served as head of the United States delegation to the January 1993 inauguration of President Rawlings of Ghana, Africa, and was part of the United Nations observer team for the 1993 elections in Cambodia. He also has been a member of the Citizens' Stamp Advisory Committee.