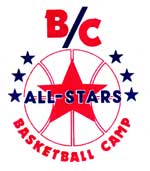 B/C Camp Counselors, representing the most successful college basketball
programs in the country, attended the B/C All-Stars "Invitation Only" Camps.
A large number of B/C former All-Star campers returned to B/C as counselors representing the nation's top 20 teams. Many of these players had also participated in B/C camp as campers, and became stars of the NBA. Some of the greatest names in basketball history are listed among the B/C All-Stars Camp counselors. No other summer sport camps can hold claim to such an honor.