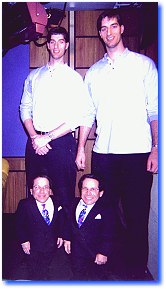 Michael and James Lanier, United States
7-feet, 6-inches each

The Lanier Brothers (shown in the picture to the right with the Rice Twins) played collegiate basketball at The University of Denver and UCLA, respectively.

John and Greg Rice, United States
34-inches each

The Rice Brothers (shown in the picture to the right with the Lanier Twins) have their own motivational firm, 'Think Big'.

In the photo shown, the two sets of twins pose next to each other during a 1999 television appearance. A sad update to report...John Rice passed away on November 5, 2005 due to a heart attack suffered during a surgery. He was 53.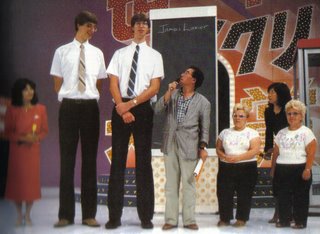 ---
Ann and Claire Recht, Canby, Oregon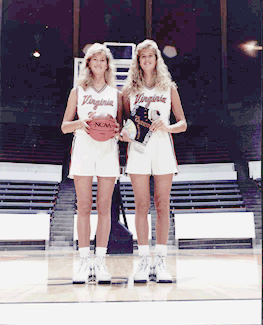 6-feet, 6-inches each
According to the 2004 Guinness World Records book, the tallest female twins in the world are now 17-year-old twin sisters, Ann and Claire Recht, of Canby, Oregon (Ann is at the left in the picture shown to the left).
The Rechts come from a big family. Dad is 6-5 1/2, their Mom is 6-3, they have a 21-year-old brother who is 6-9 and a 19-year-old brother who is 6-8, and a 17-year-old sister who is a 'mere' 5-11. Ann and Claire are juniors at La Salle High School in Milwaukie, Oregon, near Portland.
The Recht Twins took over honors as the world's tallest female twins from Heidi and Heather Burge, who are each 6 foot 5 inches. The Burge Sisters (shown to the right) are from Palos Verdes, California and played collegiate basketball at the University of Virginia, where they helped guide the Lady Cavs to three Final Four appearances. The story of the Burge Twins was told in a made-for-TV Disney movie, 'Double Teamed', that premiered in January, 2002.
Heidi played professionally for the WNBA's Los Angeles Sparks in 1997 and 1998. Both are now married, retired from basketball, and live in Southern California (Heather) and Houston (Heidi). The photo of the Burge Twins to the right is from their collegiate playing days at Virginia. Heidi is on the left and Heather is on the right. It was taken by Jim Carpenter and is owned by the University of Virginia Athletic Department.
There may be new record-holders in this category shortly as Beatrice and Suzanne Bofia from Yaounde in Cameroon (Africa) are 6'7" and 6'6", respectively. But they'd have to be measured by Guinness to take over as the new record-holders.