For a man who played third billing to Siamese twins and trained seals, Bob Hope has become the most recognized profile and talent in the world. And, in the entire history of show business, no individual has traveled so far -- so often -- to entertain so many.
Hope's entertainment persona has been evident in every decade of the 20th century -- from impersonating Charlie Chaplin in front of the firehouse in Cleveland in 1909, to celebrating an unprecedented 60 years with NBC in 1996.
| | | |
| --- | --- | --- |
| | The fifth of seven sons, he was born Leslie Townes Hope in Eltham, England on May 29, 1903. His English father, William Henry Hope, was a stonemason -- his Welsh mother, Avis Townes Hope, an aspiring concert singer. | |
In 1907, Leslie's father brought the family to Cleveland, Ohio. In 1920, by virtue of his father's naturalization, 'Bob' -- the name by which the world would later know him -- and his brothers became US citizens. (Bob Jokes, "I left England at the age of four when I found out I couldn't be king.")
(Entertaining The Troops)

Bob Hope's unwavering commitment to the morale of America's servicemen and women is entertainment history, indeed, world history. Many say 'legend.'
For nearly six decades, be the country at war or at peace, Bob, with a band of Hollywood gypsies, has traveled the globe to entertain our service men and women.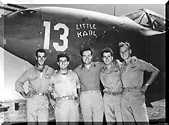 The media dubbed him "America's No. 1 Soldier in Greasepaint." To the GIs, he was "G.I. Bob" and their clown hero.
It began in May, 1941 when Bob, with a group of performers, went to March Field, California, to do a radio show for airmen stationed there.
Throughout World War II, with only two exceptions, all of Bob's radio shows were performed and aired from military bases and installations throughout the United States and theaters of war in Europe and the South Pacific. His first trip into the combat area was in 1943 when he and his small USO troupe - Frances Langford, Tony Romano and Jack Pepper visited US military facilities in England, Africa, Sicily and Ireland. In later years his itinerary included the South Pacific.



Bob began what was to become a Christmas custom in 1948. He, with wife Dolores, went to Germany at the request of then Secretary of the Air Force, Stuart Symington, to entertain the troops involved in the Berlin Airlift.



With the end of the Vietnam conflict in sight, Hope hailed his 1972 trip as his "last Christmas show." But each Christmas that followed, he was somewhere in the country doing a show at a military base or veterans hospital.
In 1983 the call came from Beirut and Hope was "on the road again." In 1987, Hope flew around the world to entertain servicemen and women in the Pacific. Atlantic and Indian Oceans and in the Persian Gulf.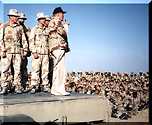 He embarked on a goodwill tour in May, 1990 to entertain military personnel stationed in England, Russia, and Germany. At Christmas that year, he and wife Dolores, were in Saudi Arabia entertaining the men and women of "Operation Desert Storm."
1994 was a good year for Bob. His "Bob Hope: The First 90 Years," produced by daughter Linda Hope, won an Emmy. And he returned to his native England for a personal appearance tour in June, commemorating the 50th anniversary of the end of World War II.


1996 marked the publication of Bob's collection of Presidential humor called "Dear Prez, I Wanna Tell Ya", and in November, he aired his 296th television special for NBC, Bob Hope Laughing with the Presidents." The show featured appearances by President and Mrs. Clinton, President and Mrs. Bush, President and Mrs. Ford, Julie Nixon and David Eisenhower. Bob's co-host was Tony Danza.
May 1997, New Orleans - Bob stood by as Dolores christened the USNS Bob Hope (AKR 300), the first of a new class of ships named after Bob. Not to be outdone, one month later the US Air Force dedicated a new C-17 in his name. (In 2001, the C-17 the 'Spirit of Bob Hope,' transported the pilots and crew of the reconnaissance plane downed in China back safe and sound to Hawaii.)
Five times Bob has been honored by the United States Congress. But, in October 1997, Bob received one of his greatest tributes when Resolution 75 was unanimously passed by members of both houses making him an Honorary Veteran - the first individual so honored in the history of the United States. He was feted in the US Capitol Rotunda by members of congress, military personnel and veterans. The next day, Bob, family and friends were guests in the oval office for the signing of the resolution by President Clinton
Bob's next visit to Washington, D.C. was in May 2000 when he officially opened the Bob Hope Gallery of American Enterainment at the Library of Congress. In July 2001, the 'Pentagon' (US Army Adjutant General Corps) paid a visit to Bob Hope's home in Toluca Lake, California for the presentation of the Order of Horatio Gates Gold Medal for his life-long contributions toward maintaining the high morale of soldiers around the world. And on his 99th birthday, May 29, 2002; The Chapel at the Los Angeles National Cemetery was named The Bob Hope Veterans Chapel.