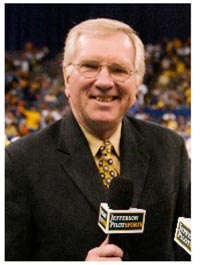 Larry was a sales rep for Converse in Georgia, Florida and Alabama, then later became a sales manager over a larger territory. He was a favorite among his Converse promotions and sales accounts, and as a lecturer.


Larry works as an analyst for RAYCOM SPORTS® SEC broadcasts.
In fact, he and Dick Vitale are the only two college basketball commentators to have worked for the network since its inception in 1979.

Larry has been a color analyst for several years on FSN South college basketball telecasts. This season will be the 3rd year that Larry is co-host for the sunday night national cable basketball show on the Fox Sports Net, SUNDAY NIGHT HOOPS. He is also a color analyst for FSN South's SEC baseball telecasts.

Conley also worked for NBC Sports (1978-82) and CBS Sports (1983-87). He served as a men's basketball analyst for NBC during the 1996 Olympics.
Larry was a standout basketball player for legendary coach Adolph Rupp at Kentucky and a member of the famed "Rupp's Runts." He posted career averages of 12.6 points and 5.6 rebounds, and helped the Wildcats to the 1966 NCAA championship game as a senior captain.