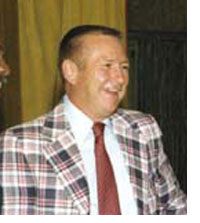 Bobby was always the life of the party and made everyone who came in contact with him feel good. He feared no one including Gib Ford, President of Converse. You could bring a smile to Gib's face by the mention of Bobby Roberts' name. Converse sales meetings were held in exciting cities like Las Vegas, Lake Tahoe, Miami and Chicago. Our group of Converse reps looked forward to these sales meetings and hearing the sports stories told by Bobby Roberts and the others.
CLEMSON, S.C. (AP) - Former Clemson men's basketball coach Bobby Roberts, led the Tigers to their best record in 63 years during the 1966-67 season. Roberts coached at Clemson from 1962-70.

Tigers coach Larry Shyatt respected Roberts' "ability to make everyone around him feel better separated him from many others. His contributions to Clemson basketball and the university in general were significant."

Born in Laurens, S.C., Roberts was hired as Clemson's freshmen coach in 1958 and went 50-20 in four seasons. He was hired as the Tigers' varsity coach in 1962.
During the 1966-67 season, the Tigers went 17-8 - their best record in 63 years. Clemson went 9-5 in the Atlantic Coast Conference, including a streak of seven straight wins - a school record that still stands.

The Tigers went 8-6 in the ACC the previous season, and Roberts remains the only Clemson coach to post consecutive winning conference records. He's also the only Clemson coach to defeat North Carolina four times in as many years.
Roberts is survived by his wife Bobbie Ann, and children Mike, the men's basketball coach at South Carolina-Aiken, and Lessie.