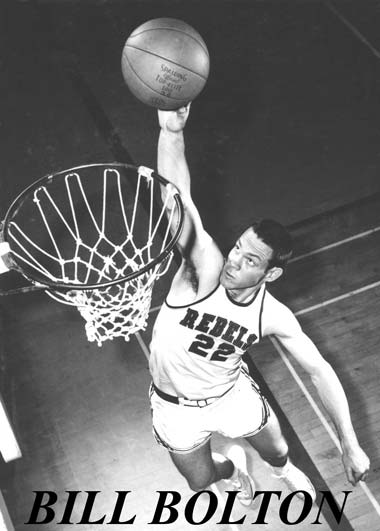 BILL BOLTON-1959

"Bull" enters the Hall for his basketball talents, being a member of the State Championship team for 1958. Known for his jumping ability he led the 1959 team in rebounding averaging (21) rebounds and (17) points per game with his high of (31) points against McMinn County. As one of the state's most recruited players, Bill signed with the University of Mississippi where he ranked in the Top Ten in rebounding and shooting in the Southeastern Conference. He still appears in the record books at Ole Miss.

He coached at Stetson University and that team won the Mid-East Regional (College Division) Championship; then at Ole Miss where he recruited Johnny Neuman, the nation's leading scorer. His recruiting expertise helped Florida State University reach the final game of the 1972 National Championship against John Wooden's UCLA Bruins and that game was the highest rated telecast in NCAA history at that time. On the Road to the Final Four FSU defeated Kentucky for the Mid-East Regional NCAA Championship – the last game of Coach Adolph Rupp's career and the nation's winningest coach. FSU started the 1973 season ranked #1 in the nation.

Bill authored numerous articles and has been chronicled in many publications such as Sports Illustrated, The Recruiting of Marcus Dupree by Willie Morris, Indiana Hoosiers by Phillip M. Hoose, etc.

Bill founded the legendary B/C All-Star Basketball Sports Camps in 1977 that became an instant success story. Of the 160 campers that first year, 18 forged their way into the NBA. A trio of all-stars – Dale Ellis, Mark Aguirre and Buck Williams – headed the list that also includes pros Antoine Carr, John Paxton and Mike Sanders. The B/C All-Star "Invitation Only" Basketball Camps are still recognized today as having been the nation's all-time premier basketball camps for 16 years. B/C operated in (4) states and during those 16 years over 24,000 campers attended the boy's camp and featured such heralded legends as Julius "Dr. J" Erving, Larry Bird, Hakeem Olajuwan, Dominique Wilkins, Isiah Thomas, Magic Johnson, Charles Barkley and many, many more. The girl's camps featured star players Jackie Joyner-Kersee, Teresa Edwards, Jennifer Azzi, Daedre Charles, Carol Blazojowski and Nancy Lieberman.

Bill later started a legislative consulting firm and continues as a lobbyist today. He was elected to the Hall of Fame in 1972.