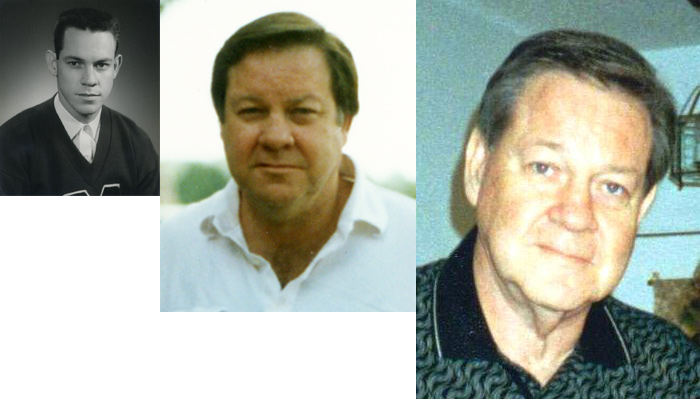 Bill ''Bull'' Bolton
Born in Knoxville, TN on Jul. 20, 1940
Departed on Sep. 22, 2012
and resided in Montezuma, GA.
Bill was born on July 20, 1940 in Knoxville, Tennessee to the late Robert L. Bolton, Sr. and Thelma Thomas Bolton.
He played his high school basketball career at Lenoir City High School in Lenoir City, Tennessee. Bill was a member of the State Championship team in 1958. He was known for his jumping ability and led the 1959 team, averaging seventeen points and twenty-one rebounds a game. As one of the state's most recruited players, Bill signed with the University of Mississippi where he ranked in the Top Ten in rebounding and shooting in the Southeastern Conference. Bill still appears in the record books for the Ole Miss Rebels. He was also elected to the Lenoir City Sports Hall of Fame in 1972.
Bill became a successful coach at Stetson University, winning the Mid-East Regional (College Division) Championship. At Ole Miss, he recruited Johnny Neuman, the nation's leading scorer. Later, his recruiting expertise helped Florida State University reach the 1972 National Championship against John Wooden's UCLA Bruins, the highest rated telecast in NCAA history at that time. On the Road to the Final Four that year, FSU defeated Kentucky for the Mid-East Regional NCAA Championship – the last game of legendary Coach Adolph Rupp's lustrous career of the nation's winningest coach.
Converse Rubber Company's National Promotion Director, the legendary Joe Dean, hired Bill "Bull" Bolton to represent one of Converse's largest territories. These territories included Georgia, Alabama, and the Florida panhandle. Bill worked with the Atlanta Braves, Atlanta Hawks, and the Atlanta Falcons, as well as all of the college teams in these states. Bill was a member of the legendary Converse "12." Converse Rubber Company played a major rose in the sixteen year success story of the B/C All-Star Basketball Camps by providing the stars of the legendary basketball world who visited all four camp sites across the nation. He and NBA legend Bob Davies represented Converse that was a major sponsor for ABC Sport Super Star Contest in the Grand Bahamas Islands. Many great legends of the sports world like Bo Jackson, Lynn Swann, John Havlicek, Bob Cousy, Jim Taylor and many more were in attendance either to participate or just enjoy the event. Converse was "The Shoe of the Stars."
Bill founded the legendary B/C All-Star Basketball Camps in 1977 that became an instant success story. Of the 160 campers that first year, eighteen forged their way into the NBA. A trio of all-stars – Dale Ellis, Mark Aguirre and Buck Williams – headed the list that also includes pros, Antoine Carr, John Paxton and Mike Sanders. The B/C All-Star "Invitation Only" Basketball Camps are still recognized today as having been the nation's all-time premier basketball camps for sixteen years. B/C operated in (4) states and during those sixteen years over 24, 000 campers attended the boy's camp and featured such heralded legends as Julius "Dr. J" Erving, Larry Bird, Hakeem Olajuwan, Dominique Wilkins, Isiah Thomas, Magic Johnson, Charles Barkley, and many, many more. The girl's camps featured star players, Jackie Joyner-Kersee, Teresa Edwards, Jennifer Azzi, Daedre Charles, Carol Blazojowski, and Nancy Lieberman.
He was the former editor of the National Men's & Women's Recruiting Profile Publication, the nation's most informative recruiting profile service. Bill, known for his ability to develop pivot play, authored numerous articles in Scholastic Coach, Athletic Journal and Coach & Athlete. Bill has also been chronicled in many publications of Sports Illustrated, The Recruiting of Marcus Dupree by Willie Morris and Indiana Hoosiers by Phillip M. Hoose. Bill is married to the former Mary Ann Martin from Delhi, Louisiana, an art major at Ole Miss. Bill was the first basketball player at Ole Miss to marry and maintain his scholarship. They have two children, Kellye Leigh and Brad. They also enjoy spending time with their two granddaughters, Taylor, 19, and Corinne, 11. He started a legislative consulting firm in 1992 and continued as a consultant until he passed away. As a consultant, Bill has represented clients in Florida, Mississippi, Louisiana, Tennessee, and Washington DC. United States Senator and former Majority Leader, Trent Lott, was a classmate of Bill's at Ole Miss.