Written by Michael Fragale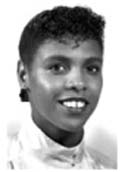 Georgeann Wells, a 6-7 center from Columbus, Ohio, was a four-year letterwinner on WVU's women's basketball teams from 1983-86.
Most notably, Wells became the first women's college basketball player to dunk in a game when she did so against Charleston on December 21, 1984, at Elkins' Randolph County Armory during the Mountaineer Christmas Classic.

The dunk instantly made her a national celebrity. Network television, Sports Illustrated, an NCAA luncheon in New York, a display in the Naismith Basketball Hall of Fame, the Women's College Basketball Hall of Fame and induction into Houston's Phi Slamma Jama dunking fraternity were just a few of the highlights of one of the school's most memorable moments. Unmatched until 1994, the feat is still one of the sport's most talked-about accomplishments.

Wells came to WVU as a heavily recruited prep star from Northland High. As a Mountaineer she averaged a double-double for her career (14.0 ppg, 10.1 rpg), which ranks her as one of just three Mountaineers in school history to do so.
She scored 1,484 career points, grabbed 1,075 rebounds and tallied 436 blocks, which still stands by far as the school record (the next closest is 172). She played in 106 games with 68 career starts, including all 28 her senior season. She was also team captain as a senior. WVU was 66-51 during her career, which included four Atlantic 10 tournament appearances and the postseason WNIT in 1985.

She still holds numerous WVU single game, single season and career blocked shot records. She set the WVU single game record with 17 blocked shots against Marshall in 1983, and she owns the top seven Mountaineer single game blocked shot records. She owns the top four single season blocked shots record, including the school record 140 in 1986.
While at WVU she was an AWSF All-America Honorable mention in 1986, a 1983 AWSF freshman All-America, a two-time all-Atlantic 10 first team member in 1985 and 1986, AWSF third-team All-America in 1985, 1985 Kodak All-East and second-team all-Atlantic 10 in 1984.

After finishing her career with the Mountaineers, Wells briefly toured with the Harlem Globetrotters and was a part of Converse's "Rocking the Neighborhood" campaign. She then played and coached professionally in Japan from 1986-92, and in Spain, Italy and France from 1992-2003.

From 2000-05, Wells has privately owned a child-care facility. Currently, she is coaching six AAU youth teams, three female and three male, in the summers.
Wells has been married to Myron Blackwell for 17 years and they have three children -- Curtis (17), Maddison (12) and Kasey (5). She and her family currently reside in Hilliard, Ohio, a suburb of Columbus.

Wells graduated from Huntington University in 2003 with a degree in elementary and physical education. She is currently pursuing a master's degree.