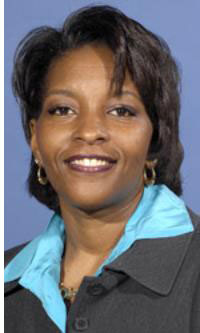 University of Tennessee head women's basketball coach Pat Summitt announced the hiring today of former UT standout Daedra Charles-Furlow. She will replace former assistant Nikki Caldwell who accepted the head coaching position at UCLA last month.
Charles-Furlow spent the last two seasons with the Auburn University's women's basketball program. As an assistant under Nell Fortner, she helped guide the Tigers to a combined 41-25 record and a berth in the 2008 NCAA Tournament.

"We are thrilled to have Daedra rejoin the Lady Vol basketball family as an assistant coach," said Summitt. "She loves the program and our university and will bring a great deal of knowledge and experience to our staff and players. As a former player she understands both the system and the expectations of the Tennessee program. That combination should prove to be a valuable asset."

A native of Detroit, Mich., Charles-Furlow, returns to Tennessee with a diverse experience at both the playing and coaching levels. Prior to her stint at Auburn, she was an assistant coach with the University of Detroit Mercy from 2003-06. Before joining the Titans of Detroit, she coached at her prep alma mater, St. Martin dePorres High School, and worked as a supervisor at a center for abused, neglected and delinquent juvenile males.
"This is an opportunity of a lifetime," said Charles-Furlow. "I'm elated to come back to the University of Tennessee and be part of a program that I so dearly love. As a Lady Vol player, I learned so much about the game of basketball from Pat Summitt. I'm now looking forward to coaching alongside the icon of women's basketball," she said.

In June 2007 Charles-Furlow was among six inductee's into the Women's Basketball Hall of Fame (fellow class of 2007 inductee's included Andy Landers, Andrea Lloyd Curry, Pam (Kelly) Flowers, Bridgette Gordon and Mel Greenberg).

While playing as a 6'3" center for the Lady Vols from 1988-91, she was named the 1991 Southeastern Conference Female Athlete of the Year and became the first player from the SEC to win the Wade Trophy, the highest honor awarded in college women's basketball.
Charles-Furlow was a two-time KODAK All-American (1990, 1991) and a two-time NCAA Champion (1989, 1991) as a player at Tennessee. She was named to the NCAA All-Final Four Team in 1991 and earned spots on the Southeastern Conference All-Tournament and NCAA All-Region Teams in 1990 and 1991. She earned All-SEC and Naismith All-America honors in 1991 and was named to the ESPY Awards Co-Team of the Decade in the 1990s.
Despite missing her freshman season at UT due to NCAA Prop 48 regulations, many of her three-year career totals rank her in the top-10 in the Lady Vol record books. Her 8.2 rebounds per game place her fourth all-time, her .552 field goal percentage ranks seventh, her 539 free throw attempts put her in eighth place and her 14.2 points per game stand in ninth. Charles-Furlow earned her bachelor's degree in child and family studies from UT in 1991.

She is one of only five Lady Vols to have her number (32) retired, joining Holly Warlick, Bridgette Gordon, Chamique Holdsclaw and Tamika Catchings. In 2001, she joined Gordon as one of nine inductees into the inaugural class of the Tennessee Lady Vol Athletic Hall of Fame.

Charles-Furlow was a member of the 1992 bronze-medal-winning U.S. Olympic team and was a member of three U.S. National teams (1989, 1992, and 1994). After her collegiate playing days, she went on to compete professionally overseas in Japan, Italy and France from 1991-96, before returning to the States to play for the WNBA's Los Angeles Sparks in 1997.

Nicknamed "Night Train" as a player, Charles-Furlow is married to Anthony Furlow and is the mother of an eight-year-old son, Anthonee.